Team Studio is a teaching facility, which stands ready to support team-based teaching and learning at CBS. Team Studio is developed in a collaborative effort between Teaching & Learning, IT, and EDA. It has been a priority to equip the Team Studio with an IT setup that enables teamwork even in class sizes up to 110 students while also securing the teacher's ability to coordinate and facilitate. Team Studio provides many IT functionalities making many teaching scenarios possible.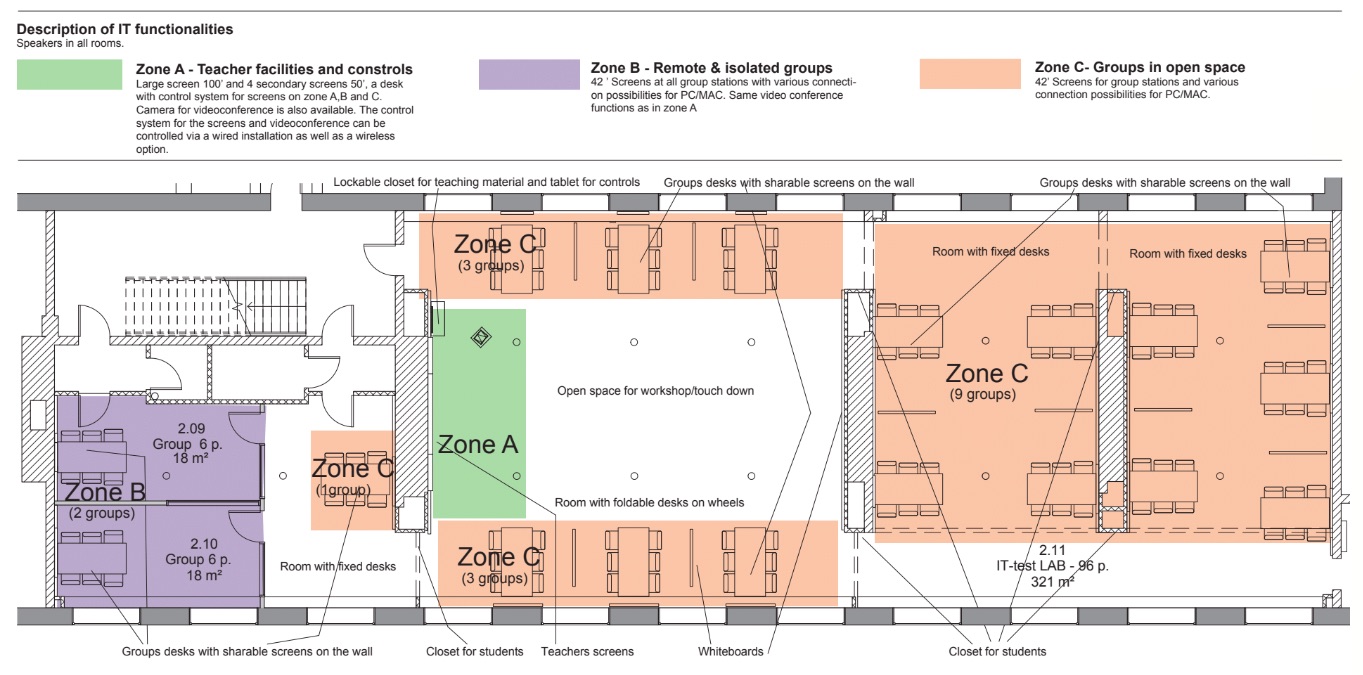 Team-based session
In terms of spacing, audio, and visual capabilities, the room supports teaching sessions that are primarily organized around group work. A team-based learning session is often initiated by a short introduction by the teacher (5-10 minutes). The teacher will be in zone A and can communicate to all students in zone A, B, and C via the audio system. The teacher can also present slides etc., which will be shown on the main monitor in zone A as well as on every screen at the group desks in zone A, B, and C. The students are then able to work in groups and they are able to connect a computer to the local screen. The teacher can walk among student groups and supervise in zone A, B, and C.
Virtual team-based session
The session is organized around cooperation with students and teachers in a class at another university. The two groups of students are separated in space, but able to attend the same group-based session. The teacher from the partner university may introduce the session and be able to communicate with zone A, B, and C at CBS via video and sound.
Team-based sessions with group presentations to external participants
In this session, the teacher may let one of the groups in either zone A, B, or C present to participants, which are not in the room. The teacher may one group present to external participants and everybody in zone C from zone B, which is audio proof.
Booking and using the studio
You can find more information on the CBS Studios in this manual.
To book, please send an e-mail to lokaleadm@cbs.dk in order to make your booking through Campus Service.
Please send an email to tl@cbs.dk if you want an introduction to Creative Studio through Teaching & Learning.
If you want to find out if Creative Studio is suitable for your teaching, please contact studio director Bo T. Christensen at bc.marktg@cbs.dk