The Nordic Case House is developing its collection of teaching cases. We support case development from iteration to publication with a view to creating a collection for Harvard Business Publishing. The CBS collection has a strong focus on Nordic companies and/or addressing business issues through a "Nordic lens." Here are some examples in our current case collection. And feel free to contact the case writers if you are interested in their case(s).
If you are interested in developing a case yourself, please reach out to us at the Nordic Case House at nordic.case@cbs.dk
FROM OPERATIONAL DATA MAINTENANCE TO STRATEGIC DATA ARCHITECTURE: MASTER DATA MANAGEMENT AT CHR. HANSEN
Authors: Attila Márton, Lasse Friis Nielsen, Nina Bækbo Andersen
Year: 2022
Founded in 1874, Chr. Hansen (pronounced Christian Hansen) is a global biotech corporation specialized in the development and manufacturing of food cultures, enzymes, probiotics and natural colors for business customers in the food, pharmaceutical, agricultural and nutritional industries. Chr. Hansen has a long history as a traditional manufacturer selling to rather conservative customers, especially dairies and farms. At the time of the teaching case, the corporation just took note of the importance of digital transformation to meet its strategic goals. Installing a high-level digital transformation team, the corporation started to experiment with digital business models. A central part of the transformation was to learn how to use data as a strategic asset, which began with implementing so-called Master Data Management (MDM) as a corporate-wide capability. This would allow for a unified view on all aspects of the business based on reliable, high-quality data, which could then be used to innovate more data-driven business models. While initial experimentation in that direction delivered promising results, an audit by Ernst & Young showed that Chr. Hansen still had a long way to go in its efforts to establish MDM. As a first but decisive step, the Global Master Data unit was charged to develop master data about the customers. And it was then up to the head of the unit, Nina Bækbo Andersen, to take this challenge on and help Chr. Hansen to digitally transform from a traditional manufacturer to a data-driven business ready for the 21st century.
TDC NET'S INNOVATION HUB: LEVERAGING 5G COMPETENCIES CASE OVERVIEW
Authors: Christoph Grimpe
Year: 2022
In 2020, TDC NET, a subsidiary of the Danish telecommunications company TDC Group, established the Innovation Hub, a new organizational unit, together with its partner Ericsson Denmark. With the Innovation Hub, TDC NET sought to explore the business opportunities that the rollout of 5G, the fifth-generation technology standard for broadband cellular networks, offers in areas such as Industry 4.0 or the Internet of Things. TDC NET was proud to offer Denmark's best mobile network but margins in that business were low and competition was fierce. Offering value-added services around the implementation of 5G seemed much more attractive. But that would require the Innovation Hub to succeed with pilot projects in areas and industries that the employees working at the Hub had little knowledge about. How could they achieve this goal during the next two years? And, given the complex challenges, was the current setup of the Innovation Hub the right one or should it be organized differently?
THE UNLIKELY INVENTOR AND THE RELUCTANT MANUFACTURER – COLOPLAST'S START-UP STORY CASE SUMMARY
Author: Louise Karlskov Skyggebjerg
Year: 2022
In 1954, Elise Sørensen, a home-care nurse, met with the plastic-packaging manufacturer Aage Louis-Hansen to discuss a new idea she had developed: a disposable ostomy bag made of the new wonder material, plastic. Aage was reluctant to become involved, but his wife convinced him to give Elise and her idea a chance. This was the beginning of a billion-euro global success. In 2022, the resulting company, Coloplast, had around 12,000 employees worldwide and turnover of more than EUR 2.5 billion from different medical products, with the ostomy bag as the core product. However, in the 1950s, Aage and Elise were just two people making decisions in a world of uncertainty where no one could predict the future. In short, they were in precisely the same situation as many of those working with start-ups in the 2020s. The case is untraditional, as it is not about a dilemma. Instead, it is designed to spur broader discussions about innovation and entrepreneurship. However, one dilemma that could be considered based on the case is plastic as a wonder material that makes life better versus plastic as problematic waste and part of an unsustainable petroculture. The ostomy bag made life better for millions, but was it also a good innovation from a global environmental perspective? Nevertheless, this dilemma is not the main focus of the case, where the history of Coloplast is told as a start-up story taking place in the mid-1950s. Students follow how Elise got the idea, how she met Aage, and how production began.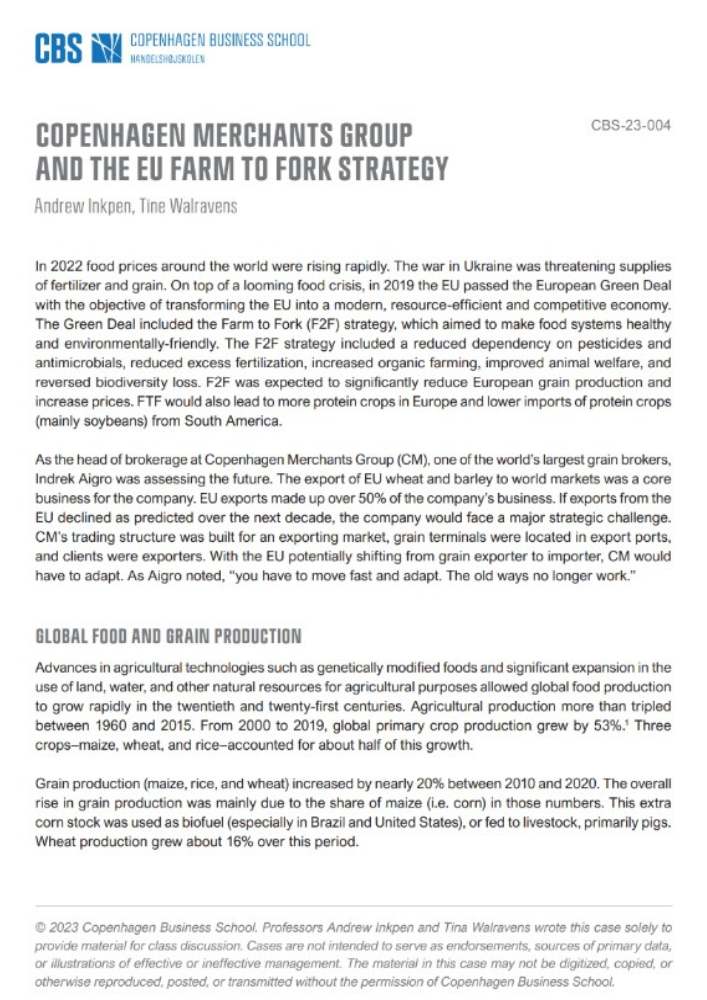 COPENHAGEN MERCHANTS GROUP AND THE EU FARM TO FORK STRATEGY
Authors: Andrew Inkpen, Tine Walravens
Year: 2022
In 2022, food prices around the world were rising rapidly, and the war in Ukraine was threatening supplies of fertilizer and grain. In addition to this looming food crisis, in 2019 the EU had passed the European Green Deal with the objective of transforming the EU into a modern, resource-efficient, and competitive economy. The Green Deal included the Farm to Fork (F2F) strategy, which aimed to make food systems healthy and environmentally friendly. The objectives of the F2F strategy included reduced dependence on pesticides, antimicrobials, and fertilizers; increased organic farming; improved animal welfare; and a reversal of biodiversity loss. The F2F strategy was expected to significantly reduce European grain production and increase prices. It was also expected to lead to more locally produced protein crops in Europe and reduced imports of protein crops (mainly soybeans) from South America.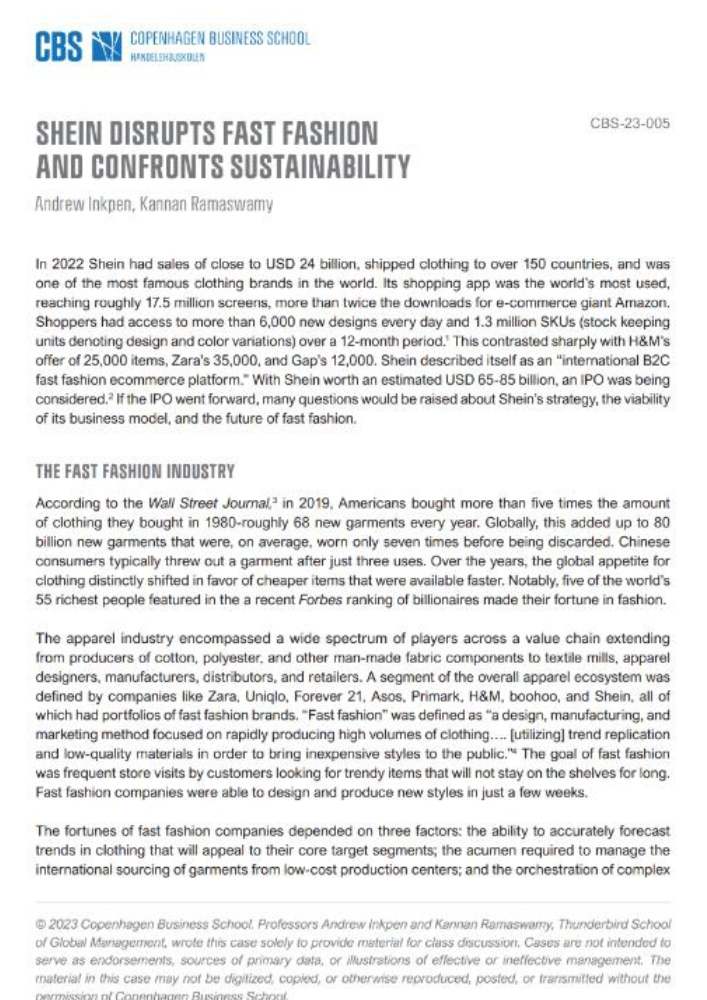 SHEIN DISRUPTS FAST FASHION AND CONFRONTS SUSTAINABILITY
Authors: Andrew Inkpen, Kannan Ramaswamy
Year: 2022
The case focuses on the competitive dynamics of the fast fashion industry and the strategic approaches adopted by major competitors within the domain of ultra-fast fashion. Set against the backdrop of major events that are reshaping fashion retailing, the case explores the business model adopted by Shein, the world's largest online fashion retailer, which in October 2022 was rumored to be on the cusp of an IPO. In 2021, Shein had sales of more than USD 15 billion, shipped clothing to more than 150 countries, and was one of the most famous clothing brands in the world. In addition, its shopping app was the world's most used, reaching roughly 17.5 million screens, more than twice the downloads for e-commerce giant Amazon.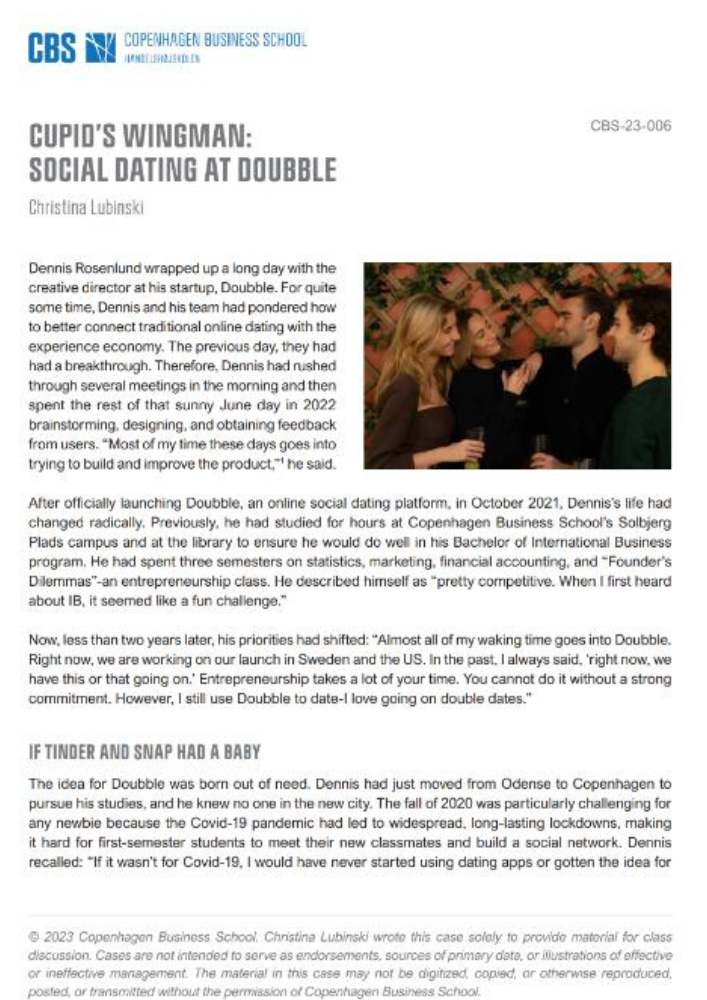 CUPID'S WINGMAN: SOCIAL DATING AT DOUBBLE
Author: Christina Lubinski
Year: 2022
Doubble is a Danish dating app founded in October 2021 by Dennis Rosenlund, a bachelor's student at Copenhagen Business School. Challenged by the Covid-19 pandemic and restrictions placed on in-person events, the first-semester student developed an app to facilitate "double dates." Users signed up for the app and connected to their friends. Then they looked for other pairs with which to have double dates. This made it easier to initiate contact by chat and reduced the awkwardness of first dates. Doubble's first users were Dennis's fellow university students. However, over time, network effects facilitated growth beyond this initial niche. The case allows for a discussion of effectuation principles at the earliest stage of venture development and the financing needs of new ventures, especially those with a platform-business model.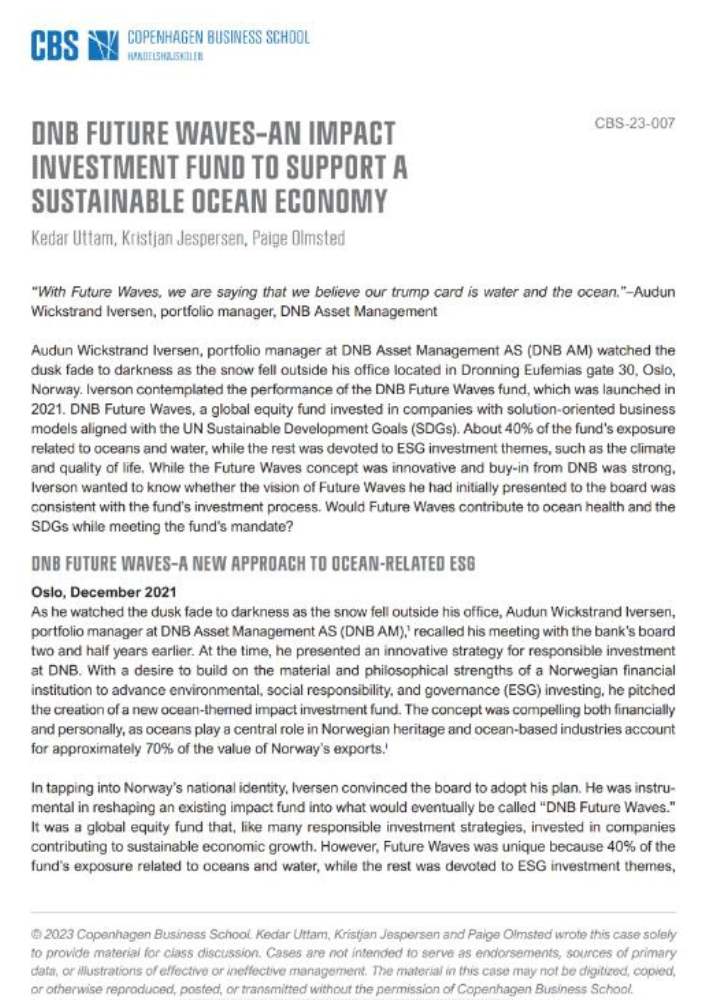 DNB FUTURE WAVES–AN IMPACT INVESTMENT FUND TO SUPPORT A SUSTAINABLE OCEAN ECONOMY
Authors: Kedar Uttam, Kristjan Jespersen, Paige Olmsted
Year: 2022
DNB Asset Management (DNB AM), which is based in the Nordic region, has introduced responsible investment strategies across its asset classes. In addition to funds and investments that follow responsible investment standards, DNB AM offers clients an assortment of sustainability-themed funds, including funds that invest in businesses tackling climate change. In May 2020, DNB AM introduced a new theme–sustainable oceans–which focused on eight sectors:
• Aquaculture and fisheries/seafood,
• Offshore oil and gas,
• Renewable marine energy (e.g., wind),
• Marine transport and shipbuilding,
• Ship recycling and marine operations (including port activities),
• Deep-sea mining and marine-based biotechnology,
• Marine and coastal tourism, and
• Land-based activities with a significant influence on the oceans (e.g., mining, agriculture, chemicals, waste management, and urban development).
Green Globalization: GreenMobility's Push to Internationalize Electric Car Sharing
Authors: Adam K. Frost, Shuang L. Frost. Lukas Hvidkjær, and Kristoffer Kellberg Frank
Year: 2022
On a fine winter morning in January 2021, in an office in downtown Copenhagen, Henrik Isaksen, the founder of GreenMobility, pondered the future of his company and his role in it. GreenMobility, a pioneer in electric vehicle (EV) car sharing, had established itself as an industry leader in Denmark and had taken the first steps towards globalizing its business. The company was operating in seven cities in four countries. Moreover, it had recently been listed on Nasdaq Copenhagen's Main Market and had plans to unroll operations in major European markets.
However, Isaksen found himself at a crossroads. Despite some early success, the path to globalization had been fraught with challenges. GreenMobility did not have a proven business model. It had struggled with leadership challenges, with five different CEOs in as many years. The global pandemic, which started in 2019, had placed unprecedented strain on the entire transportation industry. GreenMobility needed a new strategy, not only to weather this turbulent period but also to continue expanding into new markets and establish itself as the global leader in the EV car-sharing segment. What approach to internationalization would best enable GreenMobility to achieve its ambition? Was Isaksen the person best suited to lead the company through the next stage of internationalization?