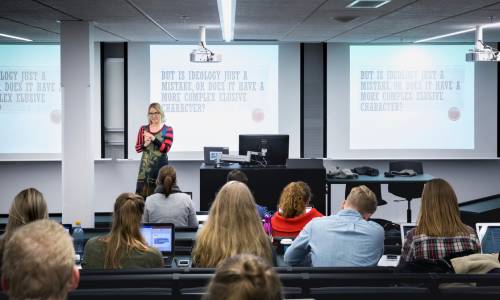 Create effective classroom presentations
Are you interested in learning how to make your classroom presentations more effective? In this webinar, we'll delve into core visual design principles, highlighting the role of elements such as whitespace and color in enhancing content delivery. We'll also discuss the strategic use of visuals, followed by research insights on how our brains process and retain information. Concluding, we'll emphasize the importance of accessibility, ensuring our presentations connect with every student, irrespective of their cultural or learning backgrounds.
Target group
Educators from CBS and beyond, interested in enhancing their presentation design by leveraging learning sciences and prioritizing inclusivity and accessibility.
Intended learning outcomes
After the workshop, you will be able to:
Understand essential multimedia and visual design principles, focusing on the transformative impact of elements such as whitespace, color, and typography.
Strategically incorporate images, charts, and other visual aids in presentations, understanding their impact on the brain's information processing.
Develop a foundational understanding of cognitive processes that influence how students receive and retain presentation content.
Design presentations that are both accessible and resonate with students from varied backgrounds and learning preferences.
Workload
1,5 hours